From Thursday, October 1, 2020 12:00 AM
to Wednesday, June 30, 2021 12:00 AM
Invite-only in-person activity
Dwengo vzw/asbl wants to empower teachers so they can discover with their pupils from the 5th and 6th grade their talent for science and technology. We challenge the children to build and program a creative art robot that can draw independently. This way they learn a lot of STEM skills, from technology to computational thinking. For a lot of teachers, building robots in the classroom might be new. Therefore we bundled all our supporting didactic material in a MOOC (massive open online course) and we link every participating school to an experienced WeGoSTEM volunteer. With the online help of their buddy, teachers will be able to bring the workshop in their classroom.
Basic programming concepts

Robotics

Art and creativity
robotics

technology

Basic programming concepts

Computational Thinking

Physical Computing

stem

unplugged activities

Visual/Block programming

computationeel denken

artbot

Grafisch programmeren
Nearby upcoming activities:
Dodona: an online co-teacher for learning to code
Sat, Oct 9, 2021 12:00 AM
Dodona is an online learning environment for learning to code. The platform supports various programming languages and is freely available to schools as a support of their programming classes. Students sign up through their school's Office 365, Google G-Suite or Smartschool account, enroll in courses, and choose from thousands of programming exercises. They can use a built-in editor to program and submit solutions and see automatically generated feedback after just a few seconds. They can use this feedback to adjust their source code in an iterative process that leads towards a correct solution. At any time, they can monitor their progress through a course and see upcoming submission deadlines. As a teacher you can create courses in which you design a learning path with exercises for a specific target group. In setting up the learning path, you can tap from a large collection of carefully worked out programming exercises with varying degrees of difficulty. But you can also add your own programming exercises to Dodona and share them with your colleagues if you want. Via learning analytics you constantly keep an eye on the progress of all students in your courses, both individually and in across the entire group.
Opening CodeWeekNL
Mon, Oct 4, 2021 7:00 PM
Informatica als schoolvak is de kern van de vakvereniging i&i. Daarnaast zet i&i zich ook in voor digitale geletterdheid. Dit jaar organiseert i&i de CodeWeek en zal daar een doorlopend programma voor organiseren. Er worden online sessies georganiseerd oa. over the beauty and joy of computing. Het lesmateriaal is door i&i vertaald naar het Nederlands en is te bereiken via www.bjoc.nl. Doelgroep zijn docenten en leerlingen. Door de combinatie aan te spreken komt er een actief netwerk tot stand om samen te kijken en te werken met het lesmateriaal. Het materiaal is altijd gratis te gebruiken. Het onderliggende platform is SNAP!. Informatie wordt gedeeld via twitter, instagram, email en via de website codeweek.nl. BJOC is een formele cursus van de universiteit van Berkley (US). Door het materiaal te vertalen is het toegankelijk voor veel meer leerlingen/studenten. Naast de introductie BJOC/SNAP!/Blockly zal er ook een verbinding gemaakt worden met Hedycode.com. Er is dus een volledige leerlijn mogelijk tot aan python.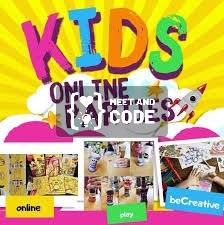 "Virtopia" Virtual Forum for Children
Sat, Oct 23, 2021 5:00 PM
For our projects to introduce young migrant stakeholders, MSOs, Newcomers and refugees into the digitalised world in times of Covid-19. we are dependent on financial support for the fees of an external speaker. Here we would like to show the target groups digital ways in which they can continue their voluntary activities despite the pandemic. continue their voluntary activities despite the pandemic. The focus should be on the following questions? My level of knowledge in matters of digitalisation, what is the best way to approach this? How do I deal with online platforms? What are the advantages and disadvantages of such platforms? How can our voluntary participation continue to be guaranteed in a targeted manner despite Covid-19? Which adequate software can be of use to us?