From Thursday, October 22, 2020 8:00 AM
to Sunday, October 25, 2020 2:00 PM
Základní škola s rozšířeným vyučováním matematiky a přírodovědných předmětů a s rozšířenou výukou informatiky Buzulucká 392, Teplice
Buzulucká 392, 415 03, Řetenice, Teplice, Ústecký kraj, CZE
Coding is an essential skill in the digital curriculum for 21st Century learners. Coding is the ability to create instructions that allow a set of actions to be carried out. This Halloween themed resource gives an opportunity to expose junior students to the world of coding using the user friendly coding app Scratch Jr. Pojďme oslavit Halloween s virtuálním programováním Scratch Jr. Žáci během CodeWeek dne vytvoří na téma Halloween pozadí a postavičky, které naprogramují k pohybu. To vše během online setkání, na kterém se seznámíme s jednotlivými úkoly a které bude fungovat zároveň i jako podpora. V druhé části projektu se žáci seznámí s unplugged aktivitou stále spojenou s Scratch Jr. Z pracovního listu vystříhají jednotlivé Scratch Jr. bloky a budou se snažit vyvést jejich halloweenskou postavičku z bludiště.
Unplugged activities

Visual/Block programming
Scratch

online

unplugged

Scratchjr

Halloween

offline
Nearby upcoming activities:
Welcome Autumn Code Week 2021
Tue, Oct 26, 2021 12:00 PM
We create and colour encoded images related with topic Autumn in Pixel Art. This Codeweek activity is part of the eTwinning project Welcome Autumn. This activity will be done by pupils of 2nd grade at primary school.
Vytváříme a vybarvujeme zakódované obrázky spojené s podzimem v Pixel Art. Tato aktivita Codeweek je součástí eTwinningového projektu Welcome Autumn, který realizují žáci 2. třídy základní školy.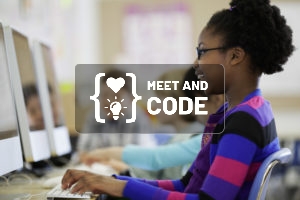 digitale Selbstbestimmung- Open source, Open Data, Mitgestaltung und Datensouveränität
Sat, Oct 30, 2021 9:00 AM
Google Maps, Whatsapp und Amazon prime sind praktisch, klar. Aber bezogen auf Datenschutz und Selbstbestimmung haben sie einiges auf dem Kerbholz. Im Rahmen des Online- Workshops besprechen wir die Vor- und Nachteile der Produkte der großen Technologie-Konzerne, testen Alternativen und versuchen uns an individuellen Lösungen für Euren Alltag. Wir führen euch in die Welt der offenen und freien Daten ein und erklären, wie ihr euch selber beteiligen könnt.
Jugend hackt Dresden
Fri, Dec 10, 2021 2:00 PM
Bei Jugend hackt verbringst du ein Wochenende mit Hacken, Basteln und Programmieren für deine Vision einer besseren Gesellschaft. Wir wollen dir einen eigenen Raum geben, in dem du dich frei entfalten kannst. In dem du dich vernetzt und austauschst. In dem du gemeinsam mit Anderen deine Fähigkeiten austestest und erweiterst. In dem du mit Code die Welt verbesserst!
Es ist egal, ob du bereits Erfahrungen und Kenntnisse hast oder nicht und ob du bereits bei einmal an Jugend hackt teilgenommen hast oder nicht. Alle sind willkommen! Hauptsache ist, du bringst Neugier und Interesse mit! Du wirst von unseren ehrenamtlichen Mentor*innen begleitet, die dich und deine Gruppe bei allen Fragen unterstützt.
Altersklasse von 12 bis 18
Wann Freitag, 10.12.2021 15:00 Uhr
Diese Hardware ist erforderlich: Keine oder eigener Rechner.
Diese Vorkenntnisse sind erforderlich: Für programmierbegeisterte und -interessierte Jugendliche
Teilnahmegebühr:
Ansprechpartner: Kirsten Mascher - 0351-21296865
Weitere Details zur Anmeldung:
Jetzt anmelden bis 15. Oktober 2021