From Saturday, October 20, 2018 2:00 PM
to Saturday, October 20, 2018 6:00 PM
DigitYser, Boulevard d'Anvers, Brussels, Belgium
Advanced Robotic class 02 , mBot Sensors : - Programming with the color sensor' functions library. - The Light Sensor - The Light Sensor
Elementary school students

High school students
Basic programming concepts

Robotics

Hardware

Other

Unplugged activities

Playful coding activities

Art and creativity

Visual/Block programming

Motivation and awareness raising

Promoting diversity
kids

robotics

coding

sensors

stem

mBot

Makeblock

ImpalaEdTech
Nearby upcoming activities: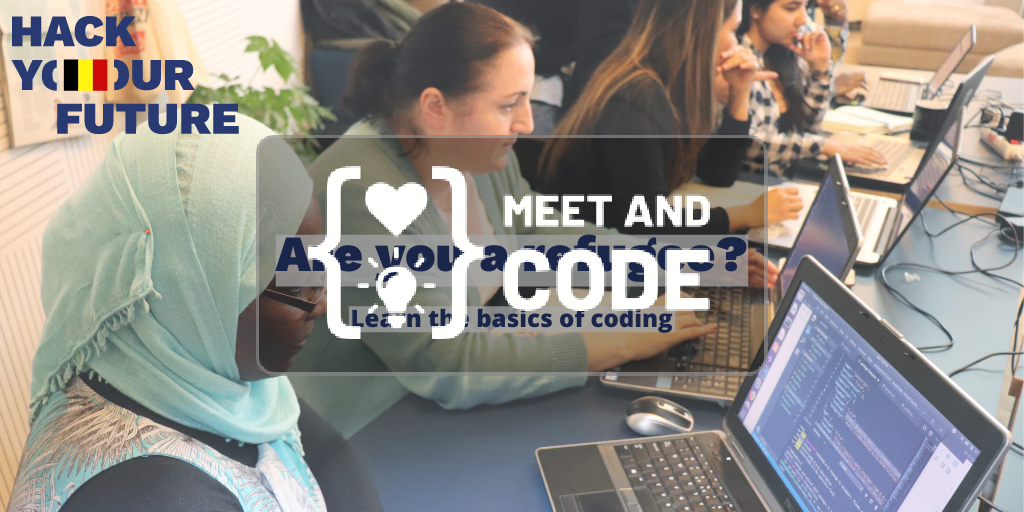 Are you a refugee? Learn the basics of coding with HackYourFuture Belgium!
Tue, Oct 27, 2020 6:30 PM
HackYourFuture Belgium is a coding school for refugees & vulnerable newcomers in Belgium. Our mission is to empower refugees by teaching them the necessary skills to start a career in software development. Our 8-month course is divided into different modules which cover programming languages such as HTML, CSS, JavaScript, Node, Databasing in MySQL/MongoDB and React. However, what we value most is that our students learn how to think as a programmer, how to solve problems, and how to manage a project. This fundamental knowledge prepares our students for their first job as a web developer! Finding your entrance door to the IT world is not always easy. Where do you start? What does it mean to become a software developer? During this 2-hours workshop, our coach will begin by guiding your first steps the fascinating world of coding. Then, you'll have the opportunity to listen & ask questions to our community of alumni, refugees who are now working as developers in Belgium. Digital Skills are for everyone, join us! Note: this workshop will be fully given in english.
CODE WEEK 2020 with TTI
Sat, Oct 10, 2020 10:00 AM
Linux, processing and programming. 10.10.2020 & 7.11.2020 & 21.11.2020 & 5.12.2020
Bluebot
Mon, Oct 19, 2020 12:00 AM
The youngest students between 12 and 15 years old will learn how to work with a bluebot. There will be 3 games that they can play in games. The second week, we will think about making a classgame with the bluebot. The students will talk about a theme and make drawings.