Organized by:
IES Joaquín Rodrigo
Contact email:
Happening at:
IES Joaquín Rodrigo, Calle De Casalarreina, Madrid, España
From Sunday, October 7, 2018 9:00 AM
to Sunday, October 7, 2018 11:00 AM
Description:
Taller online con la ayuda de la Plataforma eTwinning, para fomentar los beneficios de la Computación
More information:
This activity is for:
High school students

Graduate students

Post graduate students

Employed adults

Unemployed adults
Main themes:
Basic programming concepts

Playful coding activities

Motivation and awareness raising

Promoting diversity
Share the activity:
October 2018
Mon
Tue
Wed
Thu
Fri
Sat
Sun

1

2

3

4

5

6

7

8

9

10

11

12

13

14

15

16

17

18

19

20

21

22

23

24

25

26

27

28

29

30

31
Nearby upcoming activities: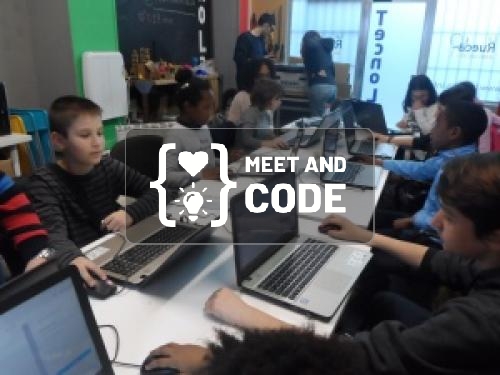 Arduino y diseño de video juegos por un barrio sostenible
Mon, Oct 7, 2019 5:00 PM
El objetivo que desde La Rueca Asociación pretendemos con el uso de la tecnología social, es acercar la misma a colectivos vulnerables, mejorando sus oportunidades, ya sean sociales, educativas, de empleabilidad, de relación, de ocio, etc. Este fin tambi
Codeweek 2019
Tue, Sep 24, 2019 12:00 AM
Actividad de concienciación de profesores participantes en #Scratch_INTEF, donde se propone como actividad voluntaria la siguiente Tarea: Puedes utilizar cualquier actividad de este curso creada con Scratch, o crear una aplicación, un juego, un sitio web, escribe un relato interactivo, juega con la informática o haz que se mueva un robot. Puedes mostrar o hacer tu actividad con tus alumnos, o puedes organizar actividades de programación para tus padres, abuelos, amigos, para niños o compañeros, y ayúdalos a entender nuestro mundo digital y a estar activos en él. Una vez que lo tengas pensado, añádelo en https://codeweek.eu/events.
Estudio de programación para niños: Juego de obstáculos con robots de Sphero
Sun, Oct 20, 2019 12:30 PM
Domingo, 20 Octubre 2019, 12:30 - Apple Puerta del Sol: Ayuda a un robot de Sphero a superar obstáculos programándolo con la app Sphero Edu en el iPad. Los niños descubrirán la programación por bloques para hacer movimientos sencillos o cambios de color. Pondrán obstáculos y, con el iPad, programarán el camino que tiene que seguir el robot. Ven con tu dispositivo o te dejamos uno. Sesión recomendada para niños de entre 6 y 12 años.