Unplug and code: Create a paper circuit
Recommended Materials
paper or cardboard
crayons or marker
coin-cell battery
copper tape
LED circuit stickers
paper clip
Purpose
Enhance creativity
Develop problem-solving skills
Description
Draw and object of your choice. It can be a night sky, a ladybird, a robot, a Christmas tree or anything you can think of. Feel free to personalize your project with EU Code Week visuals: you can explore the
EU Code Week teacher toolkit
and download any logo or visual you wish. You can even create a paper circuit invitation to EU Code Week. Add a motivating message to your circuit to encourage other teachers to join Code Week and/or to check the website dedicated to schools.
Instructions
Draw an object and decide which parts will be illuminated (e.g. stars)..
Make a hole through the paper with a pencil and insert a LED sticker in each illuminated part. .
Draw a circle where you will place the coin-cell battery..
Draw a + and a - track on the other side of the paper. Make sure that the longer leg of the LED circuit sticker is connected to the "+" side of the battery and the shorter to the "-" side of the battery..
Lay the copper tape on the tracks..
Create a fold so that when the paper covers the battery the LED is illuminated. You can use a paper clip to ensure good contact with the copper tape..
Take a picture of your paper circuit and share it on Instagram, explaining why you think it is worth it to take part in this initiative. .
Share the link to your work in your
Instagram Bio
: tap the
Edit Profile
button on your Instagram and add the link to your work in the Website field. After that, create a new post, add a screenshot of your work, write "
Link in Bio
", add the hashtag #CodeWeekChallenge and mention @CodeWeekEU.
You prefer to share your challenge(s) on Facebook? EU Code Week will pin
a new Challenge post on their Facebook page
. You then just need to comment on the post with the link to your work.
Winners will be selected and offered Code Week goodies every day during Code Week between 9 – 24 October and announced on our Instagram and Facebook channels, so don't forget to check your notifications regularly.
Complete all the Challenges
Challenge completed? Print
the bingo card
and mark the little white bubble on the top left
Share your Challenge on social media and win some cool Code Week prizes
Just upload a picture with the completed row(s), column(s) or even better - the whole bingo - to Facebook, Instagram or Twitter
Make sure to use the #CodeWeekChallengesBingo

Example
See some examples of paper circuits: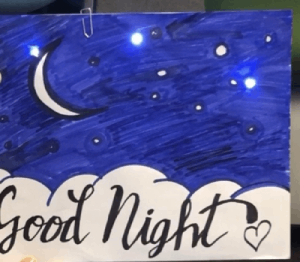 Click
here
to download this challenge as a word document.