Grow your virtual flower field
This challenge has been written by
Jadga Huegle - Meet and Code coach and part of the SAP Snap! team
and is part of the
EU CODE WEEK CHALLENGES
.
Target Audience
Students (6-12)
Purpose
To get to know programming with a simple yet expressive project.
To learn that coding can be artistic and lead to beautiful results.
To make fall brighter with colorful flowers and the EU Code Week.
To show the diversity of flowers on Earth.
To contribute to Sustainable Development Goals (SDGs), especially SDG13 -Climate Change by creating coding events that improve climate change education through raising awareness on this topic.
Description
Develop a program in Snap! which grows a virtual flower field with different types of flowers and different numbers of petals.
Instructions
If you need inspiration on how to get started with the challenge, check out this video or use this document to follow along.
The challenge can be completed by programming a virtual flower field in Snap! (or Scratch) and posting a screenshot or photo of the result online.
The flower field should contain different types of flowers with different numbers of petals. Ideally, the flowers are programmed, which means that they are constructed by stamping and turning (or drawing and turning) petals repeatedly.
Post an image of your virtual flower garden with #MeetandCode.
Share the link to your work in your
Instagram Bio
: tap the
Edit Profile
button on your Instagram and add the link to your work in the Website field. After that, create a new post, add a screenshot of your work, write "
Link in Bio
", add the hashtag #CodeWeekChallenge and mention @CodeWeekEU.
Example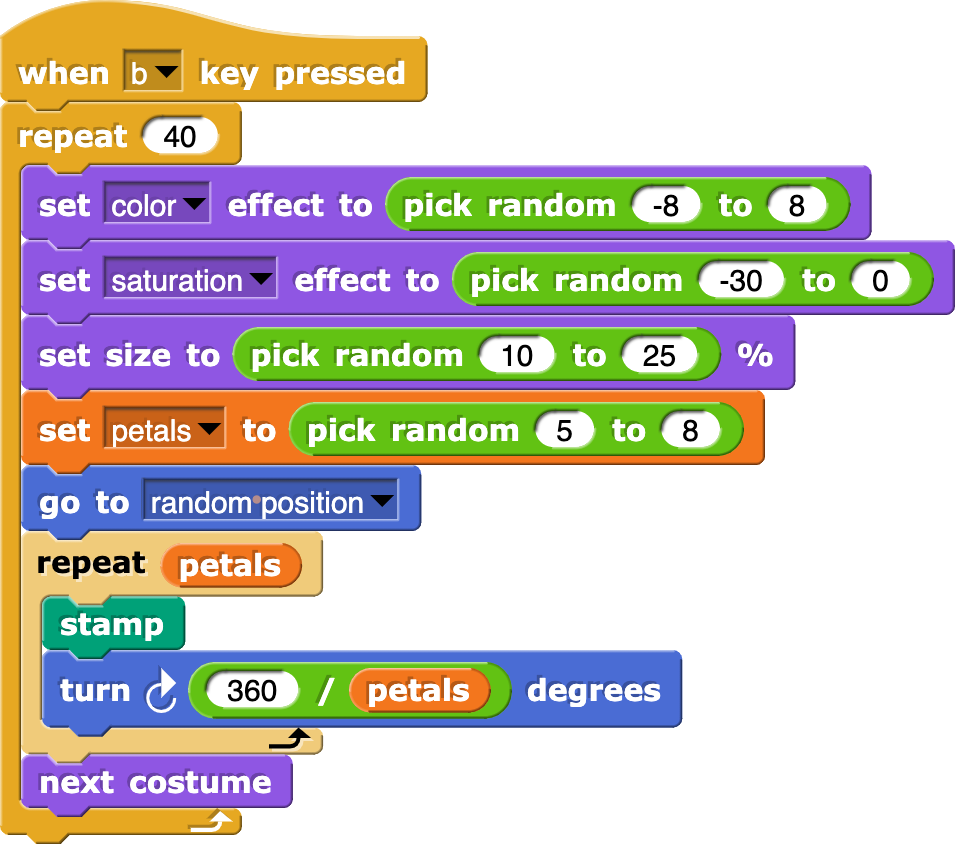 Click
here
to download this challenge as a word document.